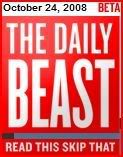 Hi there!
The Daily Beast, the new online magazine published by Tina Brown (Vanity Fair, The New Yorker) is seeking a woman who has (or had) a Sugar Daddy to write a short essay (or tell your story) about her relationship experience.
There are several angles we'd be willing to consider, but we'd like to link the topic to the faltering economy somehow. Did you have a Sugar Daddy who lost his job and couldn't support you anymore? Did you start dating a sugar daddy because you yourself lost your job or were deeply in debt?
We're very open to ideas, so please do email me at thedailybeast (at) seekingarrangement.com. This topic will be handled with complete and total sensitivity. Thank you very much!
Sincerely, Will Doig, Features Editor