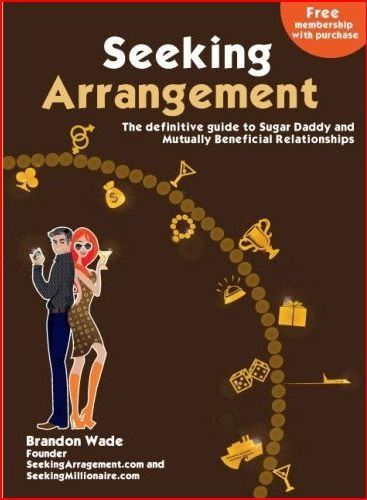 Below are two paragraphs from the Sugar Daddy Guidebook, on sale now.
"…Another element that spins Sugar into hot pink candy is the whole concept of Daddy. Women's sexual fantasies – based, I admit, on anecdotal evidence, but a lot of it – frequently revolve around a Daddy figure. I don't mean their actual fathers, but the idea of an authority figure who doles out punishment, yet at the same time loves and protects her. Women don't see themselves as children in this fantasy – indeed, the mentality here is ageless – but as being "powerless", at the mercy of a powerful man.

Daddy carries an enormous weight on his strong shoulders: after all, women have been repeatedly told that their fathers influence their sexual development, and that they tend to fall in love with men who remind them of him. Thus, sex with a Daddy figure is fraught with Freudian overtones, shrouded in secrecy, and tinged with taboos. It doesn't get any hotter than this!"
–Excerpt from"SeekingArrangement: The Definitive guide to Sugar Daddy & Mutually Beneficial Relationships".
What distinguishes a sugar relationship from a boyfriend/girlfriend one? What distinguishes a sugar relationship from just a regular ol' NSA relationship?
Sugar Babies:
What are you are willing to give or do for your Sugar Daddy that you wouldn't necessarily do for a boyfriend or for a friend with benefits? What do you work harder at for your Sugar Daddy than for an established boyfriend or an NSA guy?
What are you willing to tolerate (in looks, behavior, attitudes etc) in your Sugar Daddy that you might not be so patient about in a potential boyfriend?
Sugar Daddies:
What do you expect from your Sugar Baby (in looks, behavior, attitude, etc) that you don't as comfortably ask for or expect in a long-time girlfriend, wife, or friend with benefits?