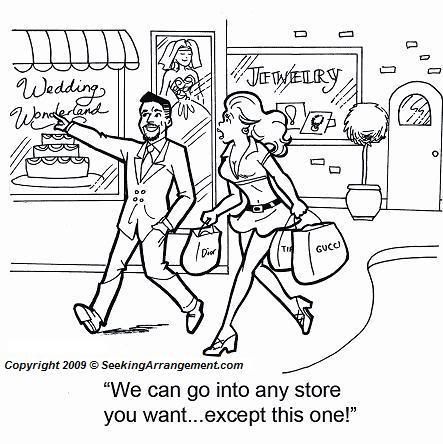 –Illustration from"SeekingArrangement: The Definitive guide to Sugar Daddy & Mutually Beneficial Relationships".
Some

Sweet

Nothings Better Left Unsaid?
In Sugar relationships, there may be times when you feel the need to choose your words extra carefully… Here's a little about Emotion & Intimacy from the new SeekingArrangement Book:
From an emotional standpoint, certain personality types adapt better to the Sugar lifestyle than others. For instance, if you tend to get very attached to someone, to the point where you're clingy and demanding, a Sugar arrangement probably won't work for you. On the other hand, if you're emotionally independent – you like (sometimes even prefer) spending time alone, you don't obsess about where your lover is or with whom, and you don't need to be with a lover in order to feel complete – then this kind of relationship is perfect for you. Between these two poles lie a range of characteristics and behaviors that indicate whether you're capable of separating emotions from intimacy. At first glance that might strike some people, particularly women, as an oxymoron, impossible to achieve and perhaps even undesirable. But let's look at the components of the phrase, separate emotions from intimacy, more carefully.

Emotions are feelings that come and go in time: one minute we might feel joyful; a few minutes later something happens to plunge us into depression. One aspect of maturity is the ability to experience a wide range of emotions without allowing them to rule our behavior. When we allow our emotions to define us this way, we're apt to run into trouble. Feelings are transitory and, as such, are not a solid foundation on which to base major life decisions – or even small ones.

I know a woman who puts her beloved house on the market every time the basement floods; but as soon as the problem's resolved, she changes her mind – once she was even sued by someone who'd put down a deposit in between my friend's shifting moods. When she learned to base her decisions on logical thought instead of on momentary emotional distress, she recognized that she didn't want to sell her house, and resolved the basement problem once and for all. The moral of this story: we cannot base decisions on feelings because they could change at any moment. A mature person knows we don't have to act on every emotion that passes through us."
–Illustration from"SeekingArrangement: The Definitive guide to Sugar Daddy & Mutually Beneficial Relationships".
Sugars:
Have you ever stopped yourself from saying something to a sugar daddy or sugar baby because it didn't seem appropriate for this type of relationship?
What does 'intimacy' mean to you?
Do you think it's important to separate intimacy from Emotion in an arrangement?
Have you ever been offended by a potential Sugar Daddy or Sugar Babies 'requirement(s)"?
Has anyone got some Sweet Sugar news to report?
Comments ON?